Big brands stealing artwork from smaller artists without compensation or credit is nothing new. In the modern age it is increasingly easy for multi-million pound companies to scour social media, find something they like, and put it on some sweatshop sweaters at £30 a pop. The independent artists fighting this plagiarism rarely have the money or resources to gain anything from a lengthy
legal trial so the big brands are allowed to do it over and over. Companies like Shein - already under fire for their
fast-fashion
-led questionable ethics - are repeat offenders and so far don't seem to be stopping. What's the point in employing a load of creatives when you can find them on instagram for free?
This time however it's one major brand against another as internationally-renowned graffiti artist Banksy has accused Guess of stealing his images for their own gain. The artist posted a picture of
the Guess shopfront in London on his Instagram and encouraged his followers to steal from the store:
"Attention all shoplifters. Please go to GUESS on Regent Street. They've helped themselves to my artwork without asking, how can it be wrong for you to do the same to their clothes"
Brandalised, the collaborators with Guess on the project, already sell Banksy prints on a range of different products. How they are able to do this and what licences they hold is quite vague. The only information about Brandalised states:
"Brandalised is an urban graffiti license with high visibility and recognition. A variety of licensees are targeting the trendy demographic with Brandalised licensed products: T's, sweatshirts, tank tops, mobile accessories, gadgets, calendars, gaming themes, and stationery.
None of which seems to make any real sense to me. The fact that graffiti is made for the public domain has made it difficult to control how it is used after its creation.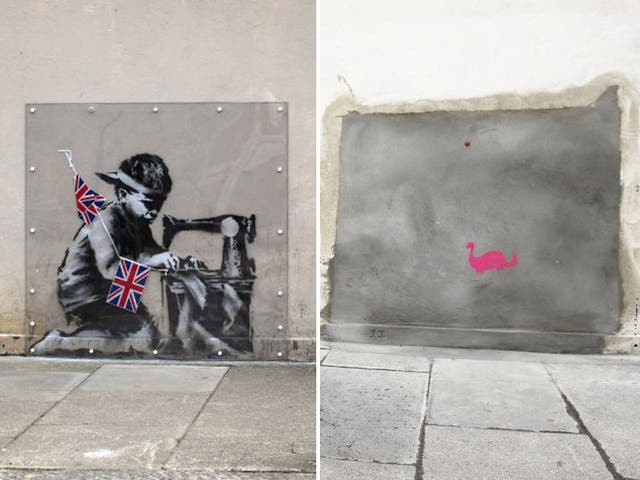 Public Domain
In the case of Banksy, this has seen people cut out entire sections of wall in order to profit from somebody else's work. As is often the problem with art, people don't see the value as it's hard to put a price on creative work. I've known many artists be asked for personalised works by people and companies with no intention of paying. Creativity is not something that can be priced purely at an hourly rate and this seems to make it difficult for prospective buyers to understand the pricing system.
You would expect however a global brand as big as Guess to be aware of the cost of creativity and the complex laws protecting copyright, even when it comes to protecting anonymous public works. Initially shutting the store after Banksy's Instagram post, presumably in fear of looting, Guess and Brandalised seem to have not taken much notice. They responded with Banksy's quote from 20 years ago that 'copyright is for losers' which seems like they've completely missed the point. The anti-capitalist Banksy may encourage non-commercial use of his work but I don't think
fast fashion
fits in with his overt anti-capitalist themes.
The fact that a brand as high-profile as Guess are happy to steal the work of someone as high-profile as Banksy points to a flaw in the whole system.
Fast fashion now aims to provide new collections weekly
, not just seasonally, which means that teams of artists must be employed in order to fulfil a creative output capable of churning out hundreds of new ideas every week. Clearly this is impossible: creativity takes time and is a long process of thought and revision. It's clear that the only way many companies fulfil their own ridiculous quota is to mine the works of others and unapologetically reproduce it.
Banksy may not be able to stop Guess selling his works for their own gain. The law is vague and if Brandalised are already selling Banksy images under some needlessly-complex wording about licensing and licensees then there's a good chance that Guess can do the same thing. At least Banksy can bring more attention to the widespread practice of artistic theft than some of his lesser-known counterparts could hope to. Blatant design theft is being completely ignored by the big companies as they are fully aware they have the money and legal firepower to overcome any complaints from independent artists.
Indie Artists
High street giant Zara are just one fashion company accused of the practice. An Instagram post from indie artist Tuesday Bassen highlighted the absolute arrogant approach of these companies in dismissing any accusations of plagiarism. Posting the comparisons online couldn't have made Bassen's claims any clearer or valid. Four pictures of Bassen's own design sat next to four near-identical designs from Zara, it takes some real arrogance to respond as Zara did with the evidence presented to them, stating 'we reject your claims here… the lack of distinctiveness of your clients purported designs makes it very hard to see how a significant part of the population anywhere in the world would associate the signs with Tuesday Bassen'. To me that reads simply as 'we're bigger than you, nobody knows who you are, now fuck off'. If that doesn't sting enough, Bassen forked out $2,000 to her own lawyer purely to be told to go fuck herself.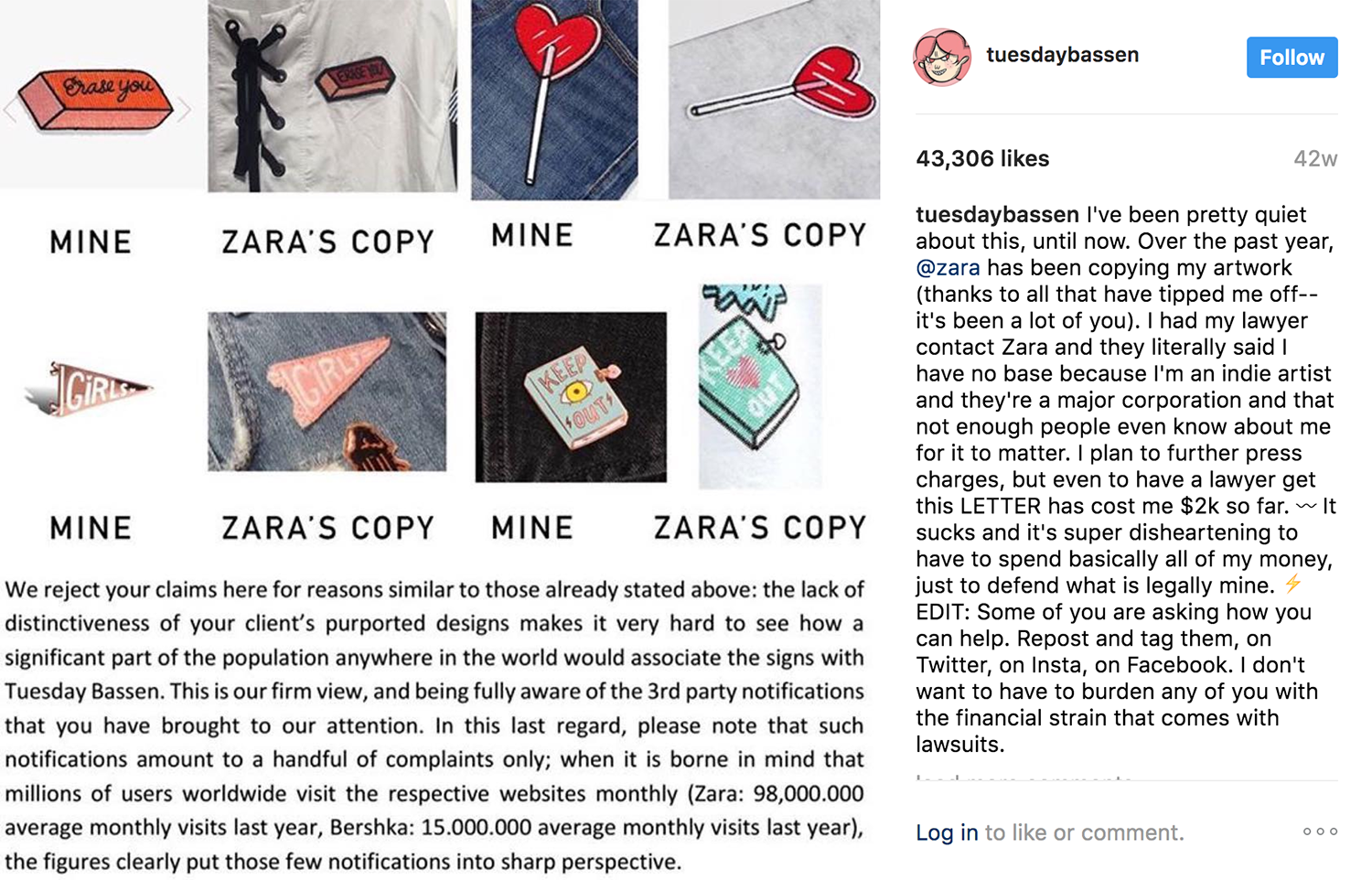 Christian Louboutin even tried to sue Zara to no avail after Zara started selling imitation red-soled shoes in their stores. If the luxury, high-end powerhouse can't successfully protect their designs then what chance have independents got? Repeat offender Shein is currently up against a $100m lawsuit from indie artist Maggie Stephenson. Stephenson's work is already being used officially by Urban Outfitters and other stores but Shein had no such license to reproduce the work. It's a step in
the right direction that Stephenson can attempt to sue but if Louboutin can't do it with Zara, things aren't looking too promising.
Another example of repeat offences are Fashion Nova who have repeatedly stolen designs from indie designer Jai Nice who has built her brand Kloset Envy from the age of 18. If they've stolen from her numerous times alone then how many others have been targeted? Fashion Nova even went that extra step by ordering some of Nice's clothes then returning them when they'd successfully copied the design. That's a real next level dedication to fucking over indie designers.
The complexity of copyright law and the differences between US and UK laws can make it difficult for those without multimillion resources to claim ownership over their own work. Clearly it's not even easy for those with resources and public backing to do the same. Such is the demand for fast fashion that it's difficult to see how this is going to change anytime soon. Even when shown with absolute conviction that designs are being stolen from lesser-known artists it takes more than one sympathetic judge to deliver justice. It will take not just a revision of law but a long hard look at
how we consume fashion
and art in the modern age.